Tue 14 Nov 2017: LIMITATIONS ON USE OF DARTMOOR FOR TEN TORS TRAINING
To address concerns for Dartmoor's precious environment, some limitations have been agreed with the National Park Authority. Rob Steemson, who has been coordinating action, emphasises that while Ten Tors may contribute to wear and tear, it is only one of Dartmoor's uses that can cause environmental damage.
A reminder of Ten Tors Rule 34 - Route Selection. To spread wear on the countryside whilst training, Team Managers are strongly encouraged to use areas other than Dartmoor, including both lowland and other local moorland areas, to select sites other than the tops of tors as checkpoints, and to make use of public rights of way. Care must be taken not to damage areas that are protected as Scheduled Monuments, Sites of Special Scientific Interest or Rare Bird Nesting Areas.
Nesting birds versus erosion. In selecting where you walk, it is preferable to stick to existing paths and tracks rather than to spread out, which is likely to disturb ground nesting birds.
Safety Controls and Checkpoints. The locations used for the Ten Tors Challenge get more wear than other areas. Please avoid them, particularly the moor end of the Fernworthy bridleway and Sittaford Tor.
Lane End. The frequently used route between the Lane End car park and the Nattor Down Leat bridge SX540825 becomes muddy after rain owing to seepage from the leat, exacerbated by storms, gorse channelling access and heavy use. The state of the area will be monitored and direction given if the other Leat bridges are to be used.
Postbridge Driftway. Thanks in part to your Donations for Dartmoor, considerable work has been completed to restore access to the Driftway, which is the bridleway between the west of the Postbridge Visitor Centre along the west bank of the East Dart and the gate at the beech hedge.
Hartyland Access Land. Although the field SX646792 is access land, to reduce wear, please stick to the public footpath that traverses the east and north edge rather than taking a diagonal line through the field.
Hartland Tor. Restoration work is being carried out on Hartland Tor's water eroded paths. Please follow the direction given by the signs, which will keep you to the east of the Tor. Alternatively, make use of the Higher Merripit – Stannon track, which we have the farmer's agreement to use.
Water Hill. To give the worn tracks time to recover, the area depicted below is not to be used for Ten Tors training. However, having rested the area, Water Hill will be available for use as a checkpoint for the Challenge.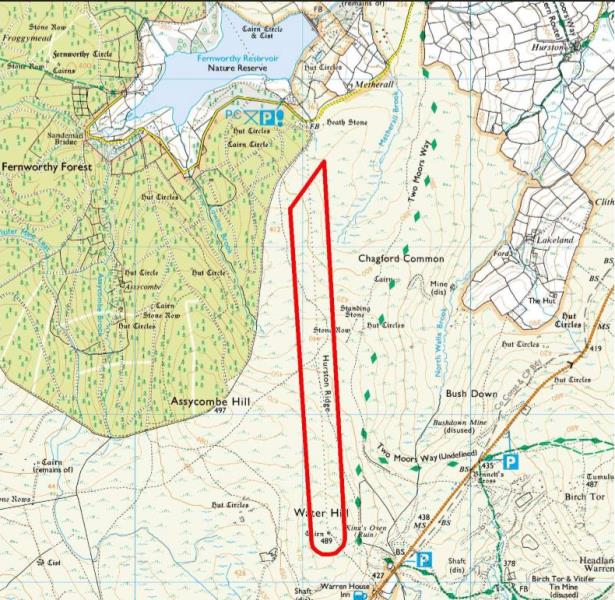 Last updated 14/11/2017
---