Tue 22 Jan 2019: Limitations on use of Dartmoor for Ten Tors Training
To address concerns for Dartmoor's precious environment, some limitations have been agreed with the National Park Authority. Rob Steemson, who has been coordinating action, emphasises that while Ten Tors may contribute to wear and tear, it is only one of Dartmoor's uses that can cause environmental damage.
Route Selection. To spread wear on the countryside whilst training, Team Managers are strongly encouraged to use areas other than Dartmoor, including both lowland and other local moorland areas, to select sites other than the tops of tors as checkpoints, and to make use of public rights of way. Care must be taken not to damage areas that are protected as Scheduled Monuments, Sites of Special Scientific Interest or Rare Bird Nesting Areas. Prior to planning any training, the Green Card must be read and adhered to.
Archerton. Stay on the bridleway around Archerton at SX 640791: do not allow walkers to stray onto private driveways.
Tor Royal. The track from Tor Royal SX 600732 to Bullpark SX603734 is NOT a public right of way and is not to be used.
Water Hill. To give the worn tracks time to recover, the area depicted below is not to be used for Ten Tors training. However, having rested the area, Water Hill will be available for use as a checkpoint for the Challenge.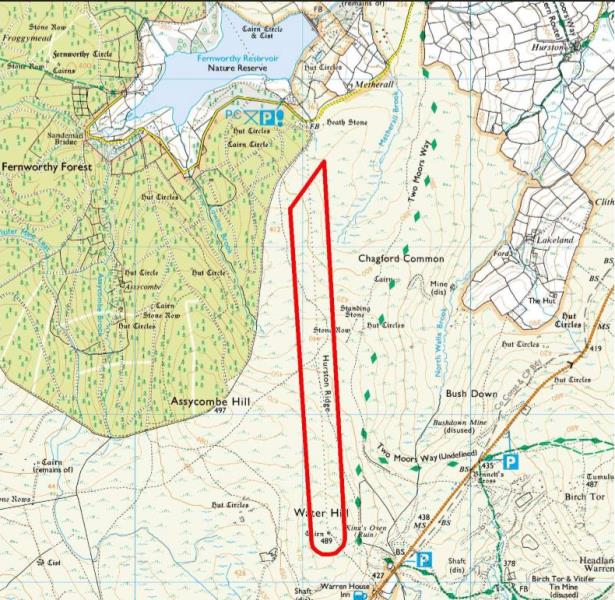 Annex A to the Rules is currently being rewritten and will be published shortly.
Last updated 24/01/2019
---