Thu 4 Jan 2018: Ten Tors 2018 Payments
As forewarned on Tuesday 14 November 2017, the instructions for making payments for the Ten Tors and Jubilee Challenges 2018 are described below.
The entry fees will be same as last year; Charges are:
£165.00 per team entering the Ten Tors Challenge.
£12.75 per individual taking part in the Jubilee Challenge/Fresh Tracks.
(This price includes one weekend vehicle pass for each Ten Tors Challenge team or Jubilee Challenge/Fresh Tracks Establishments (Estb) / 6 participants.)
The payment site will open in your TM Dashboard on 3 January 2018 and close at 2359 hours 31 January 2018.
In addition, we suggest that a voluntary contribution be made for the use of the National Park during the training and for the Challenges. For your convenience, the recommended minimum of £1 for each participant is automatically included in the invoice. These donations are paid to the Dartmoor National Park Authority for the extensive works required each year to repair damage to the tracks and paths that you use, and to maintain stiles and gateways. You can get an idea of the type of projects that have helped walkers and Ten Tors by looking at the Donate for Dartmoor page here. Please increase your donation if you can.
Payments, as last year, should be made by Paypal, which is quick and efficient for both Ten Tors and yourselves. To help identify payments, please put the following information in the reference. Start with your Ten Tors Estb Code, eg TT4781 and add an abbreviation of your Estb's Name.
If your Estb's accountant is unable to use Paypal, to ensure instant, simple payment, Team Managers should consider paying themselves and then reclaiming the fees against the invoice now available in the online payment process.
If use of BACs is unavoidable, payments should be made to RBS, Sort Code: 16-19-26, Account: 10085470. Payments are to be referenced with Estb Code and abbreviated Estb Name as a reference eg TT1111StT).
Cheques can no longer be accepted.
The deadline for all payments is 2359 hours 31 January 2018. Late payment will result in your entry being rejected.
To be confident that your payment has been received, you can check the left hand column of the Ten Tors and Jubilee Challenge entries on the website.
No refund will be made for teams or individuals withdrawn after the 31 Jan 2018 deadline.
Finally, please don't leave payment to the last moment! At the very least, ensure well in advance that you can access the payments site.
For those less familiar with the PayPal payments process, please follow the following instructions:
Open the Ten Tors website, go to the Ten Tors Challenge or Jubilee Challenge tab and on the dropdown click on TM Dashboard. Log in using the same e mail and password as you entered teams/individuals with.
Click on Payments and you will see the screen below. Check that it is correct and, if you wish, increase or decrease the voluntary Donate for Dartmoor that helps maintain the moorland we use for training and the Event. If the quantity of teams/individuals is incorrect, you will need to withdraw teams or individuals by e mailing SWHQ-TenTors-MAILBOX@mod.uk with your Estb Code and Estb Name – topic in the subject. Note that you can only use e mail as we are not manning a telephone.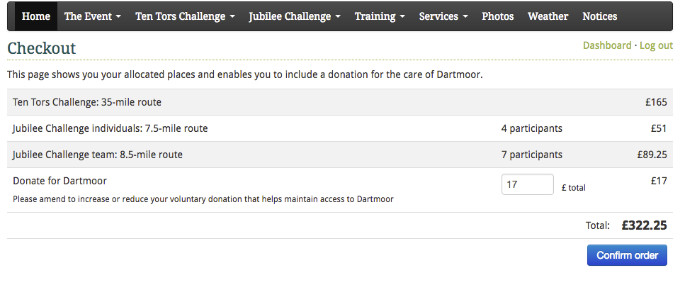 Click on Confirm order and you will see the screen below. Note that you can either print a screen shot of this page as a receipt or use PayPal's e mail as receipt for any payment made.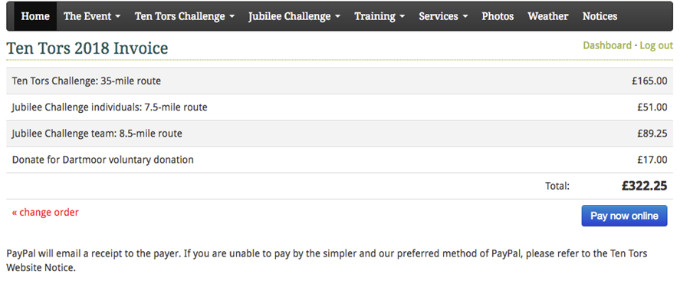 Check your order is correct then click on Pay now online. The procedure thereafter will depend on how you have set up your PayPal account. If you do not have a PayPal account, click the button at the bottom labelled "Pay with Debit or Credit Card".
Last updated 04/01/2018
---