Training
The Beacon Training Video can be found here.
Limitations on use of Dartmoor for Ten Tors training
1. Archerton. Stay on the bridleway around Archerton at SX 640791: do not allow walkers to stray onto private driveways.
2. Tor Royal. The track from Tor Royal SX 600732 to Bullpark SX603734 is NOT a public right of way and is not to be used.
3. Water Hill. To give the worn tracks time to recover, the area depicted below is not to be used for Ten Tors training. However, having rested the area, Water Hill will be available for use as a checkpoint for the Challenge.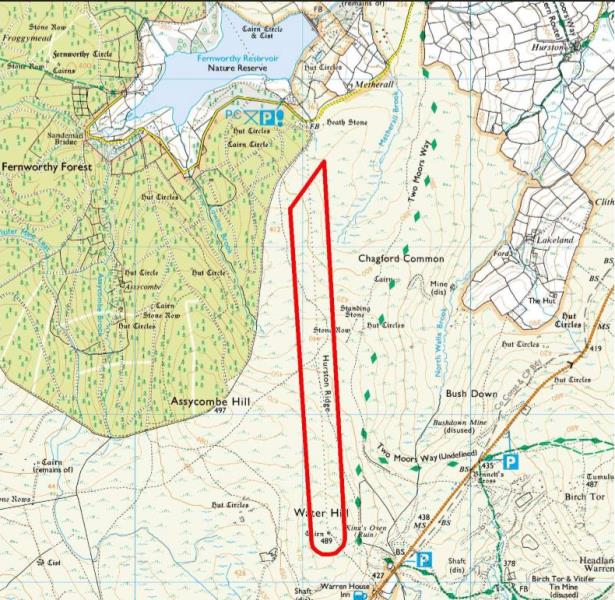 4. Standon Farm and the surrounding area are Out Of Bounds whilst training for Ten Tors. The building is located in enclosed land and may be in use for military training at any time and without any warnings being displayed. Walking Groups may use the MOD permissive path between Standon Steps at SX 539816 South along the River Tavy to the Access Land at SX 541814.
5. Lane End. The footpath from Lane End Carpark at SX 53758234 to the central bridge over the leat at SX 54038263 is Out Of Bounds as the path is becoming heavily worn; please use the path from the carpark to the footbridge at SX 54278239 instead.
6. Vehicles. Vehicles are asked to avoid the following areas:
a. Nodden Gate. The turning area at the top of Nodden Gate access track at SX52998632 as it is rapidly becoming unusable.
b. Brousentor. The 300m road section from SX543805 to SX546805 as it is becoming congested by Ten Tors vehicles and there is insufficient space to turn.
7. Parking. The restriction on parking in a carpark if it is already more than half-full of other Ten Tors-related vehicles, does not apply at either Willsworthy or Lane End carpark as both are owned by the MOD.