Donate for Dartmoor
What is Donate for Dartmoor?
In 2011, Dartmoor National Park Authority (DNPA) introduced the "£ for the Park" initiative, a voluntary donation scheme inviting participants in all organised events to make a financial donation or volunteer assistance, in addition to their entry fee, thus enabling them to "put something back" into the conservation and/or heritage of Dartmoor. Since 2011, either through adding to the entry fee, or by establishments collecting money during their training period some £8,000 has been contributed. DNPA is extremely grateful for everybody's contributions and the practical work undertaken by volunteers.
In 2016 DNPA launched a wider Donate for Dartmoor scheme aimed at the general public not just event organisers. It also has a stronger volunteering element and three targeted options for direct funding; Recreational, Natural and Historic Dartmoor projects. As highlighted in the DNPA presentation at last October's Team Managers' Briefing day, there is also more detailed information here on what a particular sum of money could purchase and help with on Dartmoor.
How will Donate for Dartmoor contributions be used?
All Ten Tors donations are ring-fenced and dedicated for practical access repairs and improvements, as well as supporting conservation projects. If you have any suggestions for suitable projects, please inform Rob Steemson, via rsteemson@dartmoor.gov.uk.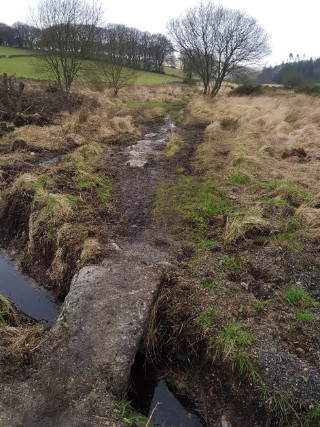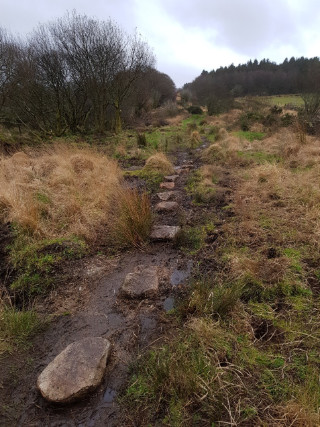 Ten Tors' donations were used during 2017 to repair the Drift Way at Postbridge, as shown in these two pictures, by adding
clapper bridges, clearing overgrown vegetation, improving drainage and adding stepping stones through wet patches.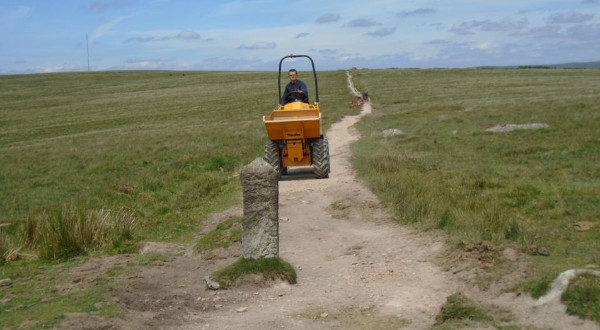 Ten Tor's donations helped fund repairs to the Abbots' Way between Nuns Cross and Princetown.
Over the last 4 years the DNPA Ranger Service has undertaken a comprehensive erosion survey of all the different types and degrees of damage at various sites across Dartmoor. The National Park Rangers are now looking at different ways of either repairing or mitigating further damage using DNPA staff, contractors, Moor users or and/or volunteers
We are planning to use your donations towards repairing the well-used public route at Postbridge that takes you up to Hartland Tor. This busy route is used by Ten Tors' teams as a vital link for both training and the Event.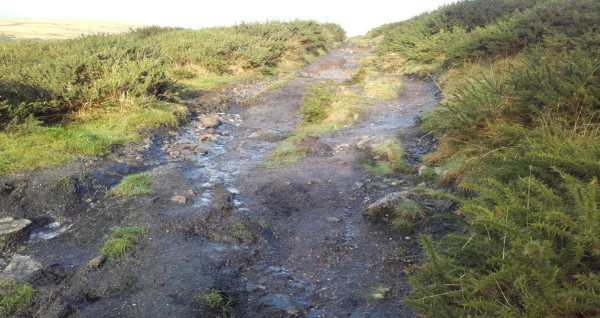 Erosion on Hartland Tor. Works starting this Winter will include diversions to help
restore vegetation, creating cross drains to stop water run off and filling gulleys.
How can we help look after Dartmoor?
Over the last couple of years, DNPA has asked Ten Tors' establishments to "give something back" by encouraging groups of volunteers to help with practical tasks on Dartmoor. Led by National Park Rangers, the jobs are suited to the volunteers' abilities, skills taught and safety supervised. The work not only benefits Dartmoor but is also a fun, team building experience. If you would like to help, please contact Rob Steemson through your Team Manager.
Tasks awaiting your assistance include creating new or clearing out old cross drains on the Abbots' Way bridleway from Plym Ford, via Eylesbarrow tin mine and Nuns Cross to Princetown; Cutting back gorse impeding the access land at Stannon Farm; and repairing damaged stone walls at Thornworthy. And we are always grateful to walkers who pick up other people's litter, especially plastic bags that can choke livestock and wild animals.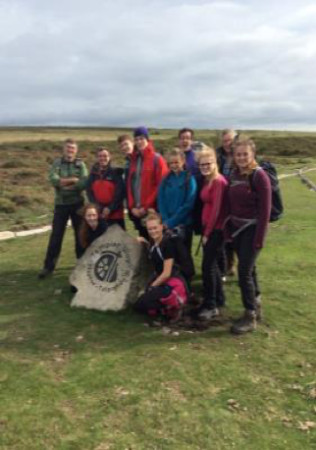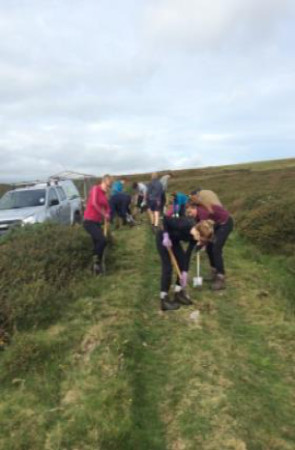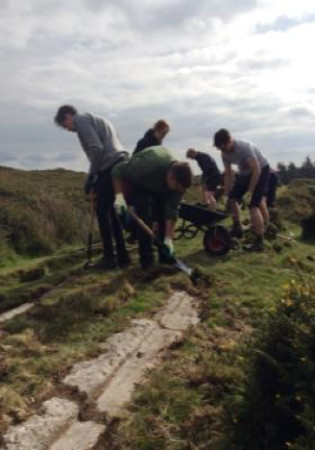 Gordano Scouts and Teign School, who after completing Ten Tors, helped uncover some of the granite railway at Haytor.
For more information please visit this link. Thank you for your continued support.
Rob Steemson
rsteemson@dartmoor.gov.uk
7711856206