Welcome to Ten Tors 2017
Welcome to the new Ten Tors 2017 web site. You can look back on Ten Tors 2016 and previous years in the archive.
After a massively successful and exhilarating Ten Tors in May 2016 we are now in the midst of planning for the Event being held over the weekend of the 5-7 May 2017.
We all want it to be another super and challenging Event – and most of you, will of course have a part to play in this!
You've come to this page either because you know you need to catch up on information, or you found this page and now you know where to come for all the up to date information and relevant dates. Either way – bookmark us in favourites and scan through the pages when you can! We will also message on the Ten Tors Facebook when anything is added or changed.
If you need advice please contact SWHQ-TenTors-MAILBOX@mod.uk Please type your Estb Code and name in the subject to assist us to respond to your emails.
Message from Col Coote
'By luck or by planning my appointment as the new Commander South West was confirmed sufficiently early for me to be able to visit Ten Tors 2016. Having not been involved in the Event since I slogged over the moors myself in 1989, I was keen to return to Okehampton and see the Challenges at first hand. Memories of that weekend - and the training - have stayed with me ever since and my certificate, photograph and medal are now proudly displayed on my office wall. But, understandably perhaps, I had forgotten the scale of the undertaking. The responsibility of becoming the Director certainly focussed my attention!

My visit also reminded me of the huge value of the Event, and the opportunity it represents to the youngsters that take part. Whilst there are perhaps an increasing number of similar events, I believe that Ten Tors remains unique in a number of aspects. These include (but are not limited to) the privileged use of Dartmoor, the interaction between military and civilians - both as challengers and organizers - and the parameters we apply to the physical challenge itself. Many I spoke to last May described the experience as a life changing event and, having seen the looks on the faces of the young men and women completing the Jubilee Challenge, I suspect few would disagree. I am very aware that a considerable amount of hard work and commitment is required in advance to make the event a success, and not least by the Team Managers and adult Leaders.
The key aspects of the event have remained unchanged for many years and I certainly don't intend to alter them arbitrarily now. Of course, we are eager to ensure that we optimize the experience for all involved, and have made a number of minor amendments since Ten Tors 2016 as a result of our after-action review. These will be briefed to you by my team and are described in the Guidance Booklet and on the website in greater detail. Our regular attenders may have appreciated the small changes made by my predecessor, such as the return of the theme from Chariots of Fire.
Finally, let me wish you all every success as you prepare for the weekend of 6/7 May 2017. I very much look forward to seeing you all then.
TT Secretary's Notices
TEN TORS PAYMENTS
Tue 31 Jan 2017
---
Headquarters South West
TT Key Dates
For ease of forward planning please note the dates and activities shown below
| | |
| --- | --- |
| Payments by | 29 Jan 17 |
| Pre Registration | 1 - 26 Apr 17 |
| Ten Tors Event | 5 - 7 May 17 |
Event Director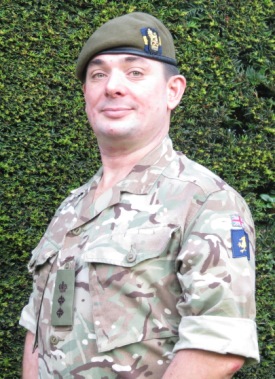 Colonel James Coote commissioned into The Princess of Wales's Royal Regiment in 1994. He has served on operations in: Northern Ireland (1995-7, 2002); the Balkans (2002); Iraq (2004) and Afghanistan (2009-10, 2011-12), most latterly as the Commanding Officer of the First Battalion and commander of the Police Mentoring and Advisory Group in Helmand. He has served with both Regular and Reserve battalions and was appointed as a Deputy Colonel of the Regiment (an honorary appointment) in August 2014.
Outside Regimental Duty he has instructed at Royal Military Academy Sandhurst and the Platoon Commanders' Battle Course; staff appointments have included an appointment in London at the Directorate of Army Resources of Plans, a tour as Military Assistant to Commander Regional Command (South) in Kandahar, which included Operation MOSHTARAK and planning for Operation HAMKARI, and two years coordinating overseas exercises in the Former Soviet Union and wider Europe. His most recent assignments have been in the Army Strategy Branch, where he has had particular responsibility for Parliamentary and wider engagement, and as Assistant Head Military Strategic Plans in the Operations Directorate.
James has a degree in Engineering, attended the Higher Command and Staff Course and has a Masters degree from the University of Cambridge in International Relations. Born in Cornwall, schooled in Dorset and settled in Wiltshire he considers the South West his home.