TRAINING ON DARTMOOR
Team Managers and staff are now conducting progressive training on Dartmoor and elsewhere to ensure that all their walkers are competent to undertake the Ten Tors and Jubilee Challenges. With the landowners', principally the Duchy of Cornwall, the National Park Authority's, commoners' and locals' support, we are privileged to be able to train on Dartmoor in the early Spring, to enjoy the landscape and to witness the new growth. The Compliance Monitors report that they have seen a great improvement in behaviour but some reminders will assist Team Managers. The key message is:
Care for Dartmoor and be Considerate of other Users.
The Ten Tors Rules set out commitments that have been made to help retain support for Ten Tors. Please read and observe them. Note that you are only allowed 4 days training on the North Moor between 1 Feb and the Event with not more than 12 people per allocated team.
To help Emergency Services and Compliance Monitors identify groups from a distance and to avoid blame for others' wrongdoing, Establishments must identify themselves. Vehicle windscreens and 2 members of each walking group must display on the rear of their rucksack an A4 card with large font showing the Establishment's Code Number with a different letter suffix to identify each walking group. If you wish and there is space, the Establishment's name can be included.
The Green Card, Aide Memoire for Teams 2017, provides a handy aide memoire. All staff and 2 members of each walking group are to carry it with Team Manager's name and telephone contact details and the Establishment 'Off-Moor' name and telephone contact details inserted. All staff and walking group members are to be conversant with the Ten Tors Code. In particular
All gates must be closed, even if they are open when you approach them.
Litter must be bagged and taken home.
High visibility garments are to be worn by the front and rear person when walking on roads.
All maps must be marked with the Rare Bird Nesting Areas, available at Dartmoor Rare Birds Nesting Areas . Routes must be planned to avoid these areas.
Wild camping must be at least 100m from and out of sight of habitation and roads.
No loudspeakers are permitted. NPA Byelaw 20.
Beware of cows with calves and leave lambs alone.
Please leave space in car parks for other visitors. Hot spots are Bagga Tor, where we have special permission for 5 vehicles to park just inside the gate and Lane Head at the end of a narrow lane, which becomes overcrowded. If parking at Postbridge use the Bellever car park on the south-east side of the road and don't park outside the Warren House Inn.
Availability of parking at Okehampton Camp will be announced each month. Please do use it for parking, unloading and loading when it is available to avoid cluttering the Moor's landscape with vehicles.
Pass the time of day with those you meet. Locals and farmers enjoy a cheery word.
Our walkers will respect Dartmoor, if they learn about Dartmoor's history, its animals and plants, farming and other industries, and the way of life. The knowledge will help their navigation and they will become ambassadors for our National Parks.
Compliance Monitors, who will identify themselves with a card of authority, will be checking that you are caring for Dartmoor and are considerate of others as will National Park Rangers and Volunteer Wardens.
Safety
The Team Manager is delegated responsibility for safety by the Head of Establishment and will ensure that training is progressive, risks assessed, routes planned, essential kit carried, escape route chosen, stream crossings practiced and dynamic risk assessment taught. The Army is not responsible for the planning and conduct of training.
The form at Forms,cards and notices Ten Tors Training on Dartmoor 2017 is used to inform the Emergency Services of who is on the Moor. Please send it to SWHQ-TenTors-MAILBOX@mod.uk at least 3 days before your training.
The only live firing at weekends is on Willsworthy during the weekend containing the second Sunday of the month. Government publications firing programme. Ensure that you do not enter the range danger area if the red warning signals are displayed.
Bogs and mires don't provide the quickest route. Plan carefully to avoid them.
If you have an emergency and need to access the military loop road during a weekend, request permission from the Headquarters South West (HQ SW) Duty Staff Officer on 07801 907589. This number is printed on the Green Card.
Serious accidents, incidents and complaints likely to attract media attention, including all 999/112 calls, must be reported immediately to the HQ SW Duty Staff Officer on 07801 907589. Less serious injuries, accidents, incidents and complaints are to be reported within 48 hours to SWHQ-TenTors-MAILBOX@mod.uk .
Good luck with your training. Enjoy the wonderful landscapes, the archaeology, the plants and wildlife, and the open space we share with the farmers, locals and visitors.
TT Secretary's Notices
TEN TORS TRAINING
Thu 23 Mar 2017
---
Headquarters South West
Event Director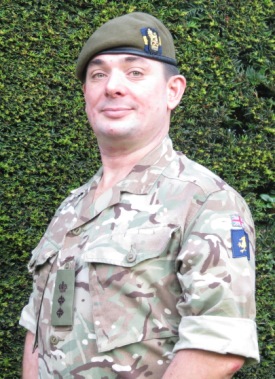 Colonel James Coote commissioned into The Princess of Wales's Royal Regiment in 1994. He has served on operations in: Northern Ireland; the Balkans; Iraq and Afghanistan, most latterly as the Commanding Officer of the First Battalion and commander of the Police Mentoring and Advisory Group in Helmand. He has served with Cadet Forces, the OTC, Regular and Reserve battalions and was appointed as a Deputy Colonel of the Regiment (an honorary appointment) in August 2014.
Outside Regimental Duty he has instructed at Royal Military Academy Sandhurst and the Platoon Commanders' Battle Course; staff appointments have included an appointment in London at the Directorate of Army Resources of Plans, a tour as Military Assistant to Commander Regional Command (South) in Kandahar, and two years co-ordinating overseas exercises in the Former Soviet Union and wider Europe. His most recent assignments have been in the Army Strategy Branch, where he has had particular responsibility for Parliamentary and wider engagement, and as Assistant Head Military Strategic Plans in the Operations Directorate.
James has a degree in Engineering, attended the Higher Command and Staff Course and has a Masters' degree from the University of Cambridge in International Relations. More importantly, he completed the 45 mile Ten Tors challenge as a cadet! Born in Cornwall, schooled in Dorset and settled in Wiltshire he considers the South West his home. He is married and has two children, two spaniels and a narcoleptic cat.