Ten Tors Challenge - Guidance on Completing Pre-Registration
Pre-Registration will open on 3 Apr 17 and close at 2359 hrs Wednesday 26 Apr 17.
Last year, Team Managers who had pre-registered accurately progressed through Registration significantly more quickly than those who required amendments; the main faults were team participant's names missing and dates of birth not entered.
Please note that the information that you enter is stored securely and is not made available to you or anyone else until Registration on Fri 5 May 17.
Below, for Team Managers, is a step by step guide.
In the menu, go to the 'Ten Tors Challenge' tab then 'TM Dashboard' and log in with the e mail address and password you use. Don't leave this to the last minute; start filling in the Pre-Registration fields now to ensure you have access and know what is required.

At the bottom of the Dashboard, there is a section listing your teams. If you have more than one team at a distance they will have been differentiated with A or B. Click to access the Pre-Registration form for each of your teams.

Each team is pre-populated with the Team name, and your name and mobile 'phone number from the information you have entered on the database. If they are incorrect, click on the link back to 'Your Dashboard' and amend. They will then be updated automatically on the Pre-Registration form.

Add your Deputy's name and mobile 'phone number. If you have more than one team, it is sensible to nominate a different Deputy for each, in case the teams all finish in quick succession.

Enter the name, date of birth and pre-existing medical conditions of the Team Leader. The format for dates of birth is dd/mm/yyyy (eg 05/11/2002). The age of participant's will be checked automatically against the Ten Tors Rules. If it is not within the parameters, you will be alerted by the outline of the box turning red when you 'Save Progress'. Only complete 'Experience' if you have been asked to or, for the 55 mile Challenge, if the participant is 17 years old and has completed 35 or 45m Challenges to qualify to participate in the 55 mile Challenge a year early.

Completing the Medical Notes with pre-existing medical conditions, medications used and allergies is vital information for the Ten Tors' doctors and paramedics. Please be comprehensive and accurate. This information will only be made available to Medical Practitioners.

Enter, in any order, information for the remaining 5 team members.

Click on 'Save progress' at the bottom of the page. If all fields marked with an asterisk '*' have been completed, and the dates of birth are within the Ten Tors Rules, the information will be saved. If not the problem areas will be highlighted with a red line around the box.

If you wish to print out your Pre-Registration, click on 'View a summary of all team details' from the Dashboard. The link opens a web page with a simple list of the details entered. You can either look, save or print it (using the link in your browser menu, usually File > Print or Right Click > Print).

Information can be added or changed at any time up to 2359 hours Wednesday 26 Apr 17 when Pre-Registration closes and is removed from the website. Should any changes be required after this, you will need to make the amendments at Registration in Okehampton Camp on Fri 5 May 17. This will take some time and impose delay you while the Management Information System is updated and forms are reprinted.

This information will be held during the Event on the Ten Tors Management Information System and most will be destroyed after the Event. Only the Establishment, Team Manager's and Group Leader's details will be retained in the secure database ready for 2018.
TT Secretary's Notices
GO OUTDOORS - FREE GOODY BAGS TO PARTICIPANTS
Thu 27 Apr 2017
---
Headquarters South West
Event Director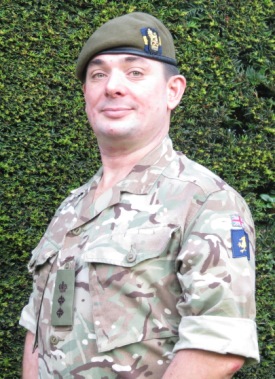 Colonel James Coote commissioned into The Princess of Wales's Royal Regiment in 1994. He has served on operations in: Northern Ireland; the Balkans; Iraq and Afghanistan, most latterly as the Commanding Officer of the First Battalion and commander of the Police Mentoring and Advisory Group in Helmand. He has served with Cadet Forces, the OTC, Regular and Reserve battalions and was appointed as a Deputy Colonel of the Regiment (an honorary appointment) in August 2014.
Outside Regimental Duty he has instructed at Royal Military Academy Sandhurst and the Platoon Commanders' Battle Course; staff appointments have included an appointment in London at the Directorate of Army Resources of Plans, a tour as Military Assistant to Commander Regional Command (South) in Kandahar, and two years co-ordinating overseas exercises in the Former Soviet Union and wider Europe. His most recent assignments have been in the Army Strategy Branch, where he has had particular responsibility for Parliamentary and wider engagement, and as Assistant Head Military Strategic Plans in the Operations Directorate.
James has a degree in Engineering, attended the Higher Command and Staff Course and has a Masters' degree from the University of Cambridge in International Relations. More importantly, he completed the 45 mile Ten Tors challenge as a cadet! Born in Cornwall, schooled in Dorset and settled in Wiltshire he considers the South West his home. He is married and has two children, two spaniels and a narcoleptic cat.