The Challenge
There may be many challenging walks in Britain today, but Ten Tors is still alone in catering solely for young people and which we believe to be the largest and most challenging event held nationally. Ten Tors incorporates the Ten Tors Challenge (see details below) and the Jubilee Challenge.
The Ten Tors Challenge takes place in the weekend following the May public holiday, future dates can be seen here. Many of its participants will remember the event with pride for the remainder of their lives, and for some it may even be a life-changing experience.
The Ten Tors Challenge is limited to 2,400 individuals (four hundred teams of six teenagers). The teams, depending on age, face hikes of 35, 45 or 55 miles (56, 72 or 88km) over the rough terrain of Dartmoor, visiting ten nominated tors / check points in under two days. The teams must be self-sufficient, carrying all that they need to complete their route and stay out over night safely. The weather can be very changeable and at times quite extreme, and success or failure can depend very much on the extent to which a team has been trained for all eventualities. Every team manager and every team member (probably parents, too!) must inevitably pray during the week leading up to the event for fair weather on the day!
The Ten Tors Challenge is organised by the Army, specifically Headquarters South West, from its Moor Group Headquarters at Okehampton Camp. It is assisted by the Royal Navy (with manpower and helicopters), the Royal Air Force and the Dartmoor Rescue Group: between them they oversee the participants and ensure that none comes to lasting harm.
Many thanks are due to the servicemen and civilians who make the organisation and execution of Ten Tors appear stunningly easy, and who provide the essential safety net. More importantly, congratulations and considerable admiration are due to the many teams who accept the Challenge and, despite everything, succeed!
As the event's Founder once said: "If there is anything more important than the will to succeed, it is that the will shall not falter."
The History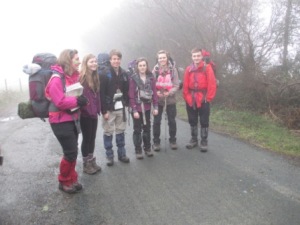 Dartmoor